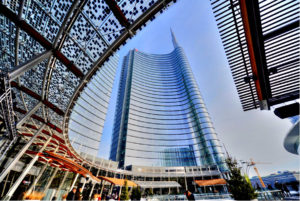 The potential relocation of major organisations to Milan, together with large scale investment from multinational corporations have made Italy's new the place to be.
Milan has always been a dynamic city synonymous with fashion, design, finance, business and importantly to the locals, style.
On the other hand, investment and opportunities in the less glamorous fields of medicine, banking, technology and Real Estate have given this fascinating city even more appeal.
Real Estate
Modern skyscrapers projects like Porta Nuova or City Life have been concluded, attracting the attention of the main Property Investment Funds from all over the world.
Also locals have chosen Milan as the prime Italian city for property investment: here is where the domestic Demand is the strongest and more qualified.
Living Milan you have the sensation of being into a vibrant modern city where the Italian rebirth is taking place.
Banking
Milan is Italy's financial hub, with the country's main Stock Exchange located there. It is also home to Bocconi University, one of the top-rated business and finance universities in Europe. Bocconi has seen many of its most talented graduates make the move to London to cut their teeth in The City. Intrepid young people who often bring their burgeoning talent back to Italy. A trend that could be increased by Brexit as the negotiation process commences.
Milan's status on the financial services landscape means it will be in the running to become the new home for the European Banking Authority – currently located in Canary Wharf, London – when the UK eventually leaves the EU. Some UK-based banks have also been considering moving some of their operations to new or expanded trading hubs inside the EU, and it is rumored that some banking staff have already offered to relocate to Milan should the time come.
Technology
Milan has been growing and developing in recent years, attracting more big businesses as well as smaller entrepreneurs. The Milan Expo 2015, for example, brought large scale investment to the city's infrastructure and the site is set to become a technology park. The high-tech sector has also been benefiting from an influx of investment, with Microsoft budgeting €30 million for new offices in Palazzo Feltrinelli. While Amazon, Google, Samsung and LinkedIn have been welcomed to the business district of Porta Nuova.
Two e-commerce giants, Banzai and Alibaba, have opened their offices in the city center and Facebook's Italian HQ is located just a short walk from the Duomo. Apple has begun work on a new mega store in Piazza Liberty, in a deal which is expected to swell the municipal coffers by around €7 million. Another interesting project is the "Symbiosis": the redevelopment of a business area into a "smart district" that uses less energy, reducing polluting emissions and making the city more sustainable.
For anyone looking to live and work in Milan these potential Brexit-fuelled opportunities, together with large scale investment that has improved infrastructure and created desirable employment opportunities, paint a picture of a city with a bright future. Proof that there's more to Milan than just high heels and sunglasses.
Medicine
Most probably Milan will be well placed to benefit from post Brexit opportunities, as some organisations opt to uproot and move out of London as uncertainty sets in. One such example is the European Medicine Agency (EMA), which officials hope could relocate to Milan. Based in London for around 20 years, the EMA acts as the regulatory agency that decides if products are safe for the European single market. Mr Alfonso said "there are at least a dozen big EU cities in the running, but we are fighting to get it for Milan". Italy is the second largest manufacturer of medical products after Germany, so attracting the EMA to the city would be quite a coup.